¡ß DESCRIPTION
It is machine for producing the fabric which mainly is composed of the Polyester,PP,Micro Fiber.
If the machine will be changed some of CAMs(optional),it can also produce with Acrylic
yarn conveniently.
¡ß STANDARD FEATURES
. Positive yarn feeding device
. Inverter is variable AC inverter drive providing acceleration from start to operation speed and uniform deceleration variable
inching and knitting speed.
. CAM system ensures High Quality knitting fabric and minimum needle wear even at high spped.
. Take-up roller
. Driving motor is 3.75Kw, 3 Phase, 220 / 380V
. Side creel stand
. Lubrication system provide oil mist for needles with CAMs and dust blower.
If 27" Diameter, fabric width is about 60"(152Cm), but it can be changed by circumstance.(yarn,speed..etc)
¡ß FEATURE

MODEL

DIAMETER

FEEDER

GAUGE

PILE LENGTH(in M/C)

SCM FX-V

27"

16

17~21

5~18m/m

12/14

15

17~25m/m

30"

20

17~21

5~18m/m

15

15~30m/m

22~35m/m

30

5~10m/m

36"

24

17~21

5~18m/m

36"
(double effect fabric)

20

18~20

5~14m/m

34"

12

11

35~58m/m

* All specifications should be selected by customers.
¡ß PRODUCTION CAPACITY
example) 27" DIA, 16 Feeders, 17 Gauge, 15~18 RPM
ground yarn:polyester 150D , pile yarn:300~750g/yard , capacity: about 200~250Kg/day
* Capacity is depended on the yarn and operator's skill.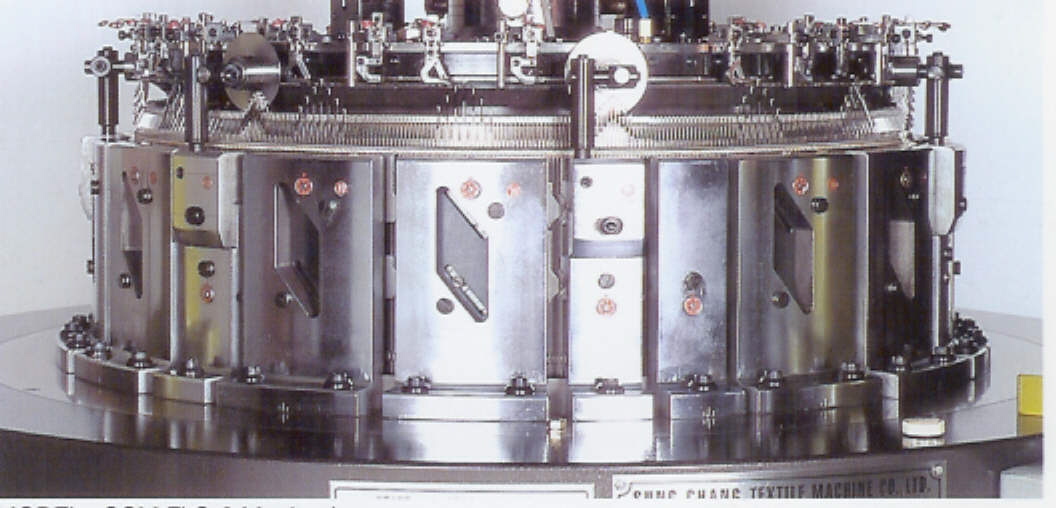 ---